We use the free MUSCLEWARE app to send alerts to competitors and fans at some of our events to let you know when your class is due on stage, and to provide contest updates.
These alerts will include SHOW-DAY notices about when each class is due on stage, plus ADVANCE alerts about any changes or updates regarding the contest.
SCROLL DOWN TO SIGN UP
---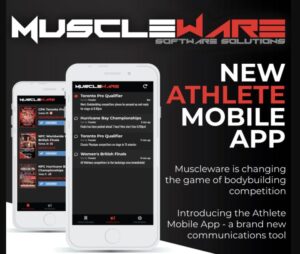 ---
THE ALERTS ARE FREE, AND YOU MUST SIGN UP TO GET THEM.

 

Here's how:
---
GET THE APP: 
On your phone, go to the APP STORE or PLAY STORE and get the MUSCLEWARE app.  Download and install it.
OPEN THE APP: 
Open the Muscleware app, and click ACTIVE CONTESTS at the bottom.  If prompted, say YES to accept notifications from MUSCLEWARE.
FIND YOUR EVENT: 
Scroll the list and find the event you are competing in.
SUBSCRIBE for FREE ALERTS:
Click TAP TO SUBSCRIBE, which will set you up for the free alerts.
TEST IT:   
To test that it works for you, go to INFORMATION at the bottom of the Muscleware app, and scroll down the information page to the SEND TEST NOTIFICATION button.  Use that to send yourself a test.  It should open a test message on your phone.  If it does not, check your phone settings and NOTIFICATIONS to be sure you have NOTIFICATIONS ENABLED for the MuscleWare app.
---
If the test works, you should receive alerts on your SHOW DAY and any updates before the event.
If you have questions, email webmaster@garyudit.com