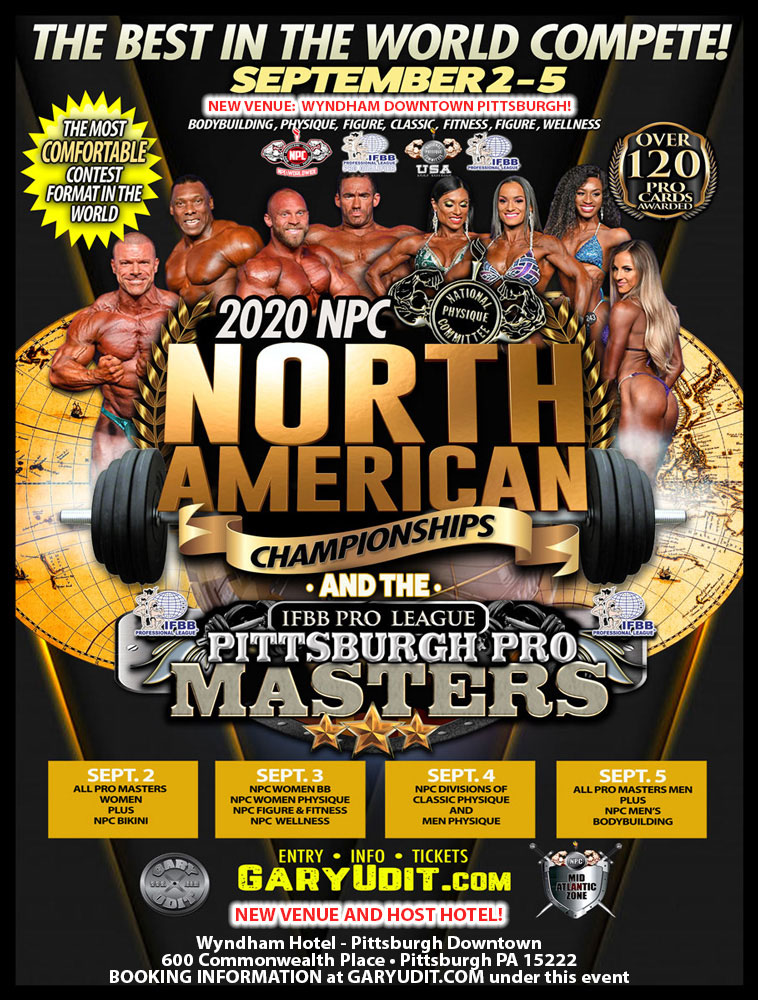 The 2020 NPC NORTH AMERICAN is scheduled to occur September 2-5 in Pittsburgh PA. For information about the event, such as entry form, times, classes, pro cards, and hotel, please CLICK LINK BELOW
If you already entered the event, scroll down for latest updates and changes, and things you need to know for the contest. Check back here often and follow @garyuditevents on Facebook.
---
LATEST UPDATES FOR REGISTERED 'NPC NORTH AMERICAN' COMPETITORS:
EVENT IS "ON" FOR SEPT 2-5
Many athletes have been asking if this event is going to happen, due to COVID restrictions. As of this writing (late July 2020), this event is scheduled to proceed on Sept 2-5. You can get full info at this link. If anything changes with that, we will report it on Facebook @garyuditevents and on this page so check back here often.
Update 7/20: EVENT VENUE HAS BEEN CHANGED
The event venue and host hotel have been moved due to restrictions in place at the prior host hotel. The new event venue is the Wyndham Pittsburgh Downtown hotel and all of the new venue info is at our main event page at this link
INFO ON HOTEL RESERVATIONS
If you had a reservation at the prior host hotel, Sheraton Station Square, those rooms will be cancelled automatically. You will need to book a room at the new venue, the Wyndham…and you can click the button above to go to the event main page, then go to the HOTEL TAB for booking info.
PAYMENT FOR EVENT:
ATHLETES WILL PAY AT CHECK IN
CASH ONLY
Starting in March 2020, we accepted entry for this event with NO PREPAYMENT required. All athletes will pay at check-in in CASH. You may add or change classes at check-in, as well.
You must bring accurate cash payment to the check-in…we cannot guarantee ATM's will remain full. The cost is $250 per class (we are waiving the processing fee).
Note: If you pre-paid for your entry prior to March 9, 2020, bring your confirmation to check-in. When you entered, you received an on-screen PDF confirmation to download and a copy would have been sent to your email from webmaster@garyudit.com
HAIR AND MAKEUP SERVICES WILL NOT BE OFFERED BY OLYMPIA TAN FOR THIS EVENT! Alternative hair and makeup service provided below.
Olympia Tan WILL be offering TANNING services for the NPC NORTH AMERICAN event, but will NOT be offering HAIR AND MAKEUP services due to difficulties in scheduling venues and staff! Athletes will be responsible for getting their own hair and makeup done for the event.
If you already booked a hair or makeup appointment for the NPC NORTH AMERICAN, you will hear from Kelly Costanzo (lead stylist) with information and a refund. You may contact her at kcostanzo111@gmail.com
This does NOT impact TANNING appointments or any other events besides NPC North American
We suggest using FLAWLESS Hair and Makeup for this event.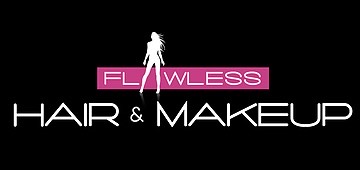 IF YOU HAVE QUESTIONS…
If you have any questions about the event, please review our main event page at this link and everything on this page. If your question is not answered there, contact Gary Udit by text at 412-377-1438 or email gary@garyudit.com
WE WILL UPDATE THIS PAGE WHEN THERE IS NEW INFO.
BOOKMARK THIS PAGE and CHECK BACK THEN…and also follow @garyuditevents on Facebook